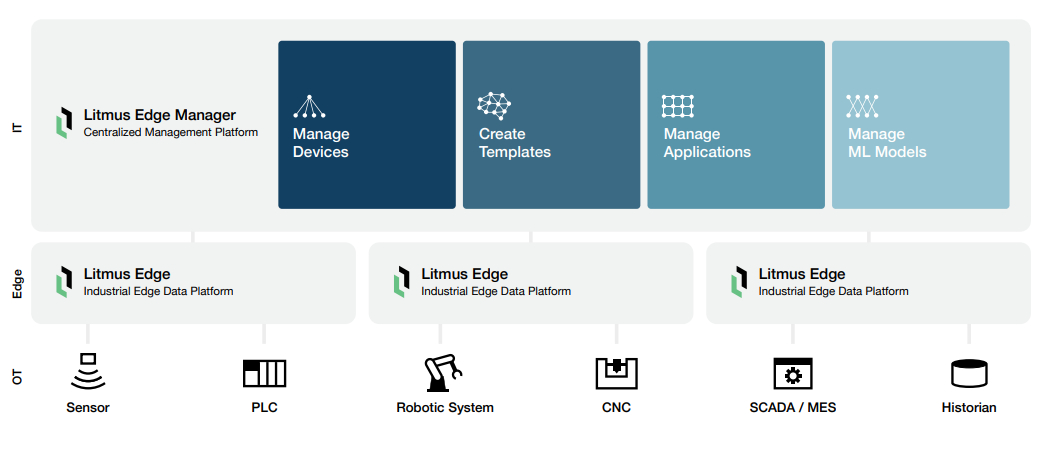 DATE:

AUTHOR:

Litmus Product Team
New Feature
Litmus Edge Manager
Enhancement
Check out what's new in Litmus Edge Manager
DATE:
AUTHOR: Litmus Product Team
Litmus Edge Manager is a centralized platform that simplifies the orchestration and management of all the Litmus Edge instances running across multiple sites. As an enterprise team, you can leverage the Litmus Edge Manager platform to visualize real-time data from all your sites and deploy applications at scale, driving efficiency and operational improvement. The platform makes it incredibly easy to roll-out deployment templates and send over-the-air updates to multiple sites.
With some recent enhancements and new capabilities, we just took all of the above a notch higher.
Alerts and triggers
Metrics-based alerts - Receive alerts on emails, Slack, or a web hook as soon as an alert gets triggered

Metrics endpoint for third-party integrations - Access Litmus Edge device metrics on your preferred third-party application

External alert manager integration - Take advantage of a comprehensive and customizable external alert management solution like AlertManager and Karma
Time synchronization with public time servers
When Litmus Edge devices are in an air-gapped network where they cannot access public time servers on the internet, Litmus Edge Manager can provide them with time synchronization.
Litmus Edge Manager can work as an NTP client to synchronize its time with public time servers.

Litmus Edge Manager then as an NTP server, provides time synchronization to Litmus Edge devices.
Other enhancements
Among several other enhancements, Litmus Edge Manager now makes it easier, faster, and more reliable to deploy marketplace applications to a mass number of Litmus Edge devices.
Now, you could also set Litmus Edge Manager to a static IP address, simplifying how your enterprise team can seamlessly roll out updates to Litmus Edge instances without constantly worrying about updating the IP address of the centralized platform.
What's next?
Subscribe to our updates to stay on top of Litmus Edge Manager.
Check out our roadmap for upcoming Litmus Edge Manager features.